ArtSmart Roundtable:
Art Couples – Between Romance and heartbreaks
In February the ArtSmart Roundtable is back again, and the theme for this edition is LOVE. With Valentine's Day being the dominating event during the shortest month of the year, the choice is a natural one. The topic selection for our contribution is art couples; given that we are a couple manoeuvring the development of this blog, it's naturally a logical choice from our personal point of view as well. Love is more than "just" about couples in the ArtSmart group: there are other stories presented in this month's Roundtable, all stories with a different angle. They're all linked to at the end of this article, please, don't forget to click through to them as well, as always some good stories to learn from and get inspired by.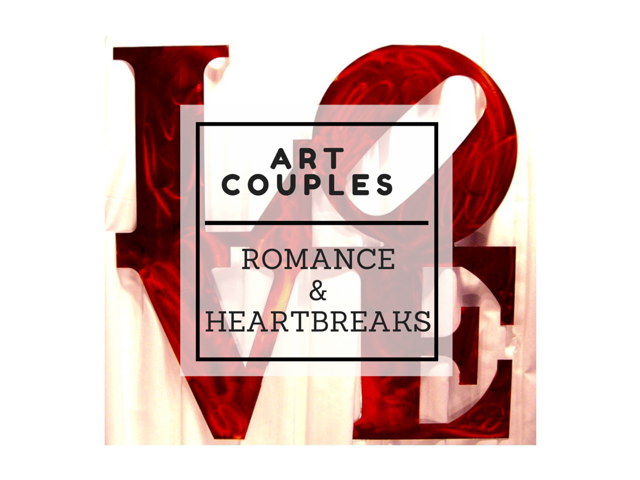 Vincent Van Gogh once gave artists the following advice: "What is done in love is done well." While for Vincent love has always been a personal disappointment, there are plenty of examples where indeed creativity and love got well combined by couples who joined forces in arts and bed to accomplish great achievements.
Looking for artistic couples in art history doesn't require a lot of searching around – as long as the concentration is from early 20th century onward. Finding any artistic bonds prior to that will be hard – in fact, finding women at all in the art world prior to the impressionists (is Berthe Morrisot the first female "star" in arts?) will be almost impossible. The few existing names are rare; even though there have been active women in the art world for instance already in the Renaissance, just that the world in general was more interested in degrading them than to treat them as equals. It's a sad reality that first today the balance slowly starts to find some kind of equilibrium, and even in a not too distant past inequality in the art world was easy to find (some could argue it might still be). Gender in the arts in generally a hard topic, and in fact, the story that first inspired us to write this article relates to the subject as well.
In case you have seen the recently released movie, "Big Eyes" (2014), you know whom we refer to. Tim Burton's latest masterpiece is about the artist Margaret Keane and her husband whom she later divorced in a turbulent fashion, a divorce where she has our fullest sympathies. This real-life case took place in the 1950's and the story is about how Margaret Keane's husband in fraudulent ways claimed credit for her work.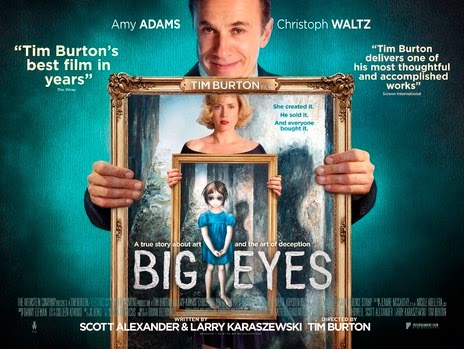 Margaret's paintings became increasingly popular and valued, all the while the artist was pushed aside from the attention of the world by her husband. While a spoiler alert is in its place, we can surely share that justice would be brought to the world. The solution was famously unusual, but also very logical logical: the couple had to produce a real-life painting in front of the judge. The outcome is easy to predict, justice was made. (While we don't want to detour from the topic here, we'd like to mention that the cartoon characters "The Power Puff Girls" are inspired by Ms. Keane's big eyed girls, a legacy that somehow feels good for the symbolism of "girl-power".)
True Romance in the Art World
But back to our topic of the art couples. Luckily, there are more upbeat examples from the romantic encounters in the art world – and some more stormy ones too (artists are flamboyant, after all). While we would indeed expect that most artist relationships are of the stormy kind, the major part of the examples are actually of the sweet, romantic kind.
Wassily Kandinsky & Gabriele Münter
One of the first power couples of the art world is the one between the father of abstract art, Wassily Kandinsky (1866-1944) and Gabriele Münter (1877-1962). Although the couple never married, they lived side by side during their entire careers ever since they started their relationship in 1902.
Supporting each other throughout life, Kandinsky went on to become the first ever painter producing purely abstract works of art, while Münter became one of the most important members of the emerging avant-garde movement in Munich, the city where the couple met and lived.
Willem & Elaine de Kooning
One of the brightest examples for a harmonious artist relationship is the one between Willem and Elaine de Kooning. The couple met as art students already in 1938, to marry five years later and to live and work alongside each other for more than fifty years, until Elaine's death in 1989. The dynamic couple went on to become among the most influential American artists ever, where they both were pioneers and poster names for the abstract expressionist movement.
Alfred Stieglitz & Georgia O'Keeffe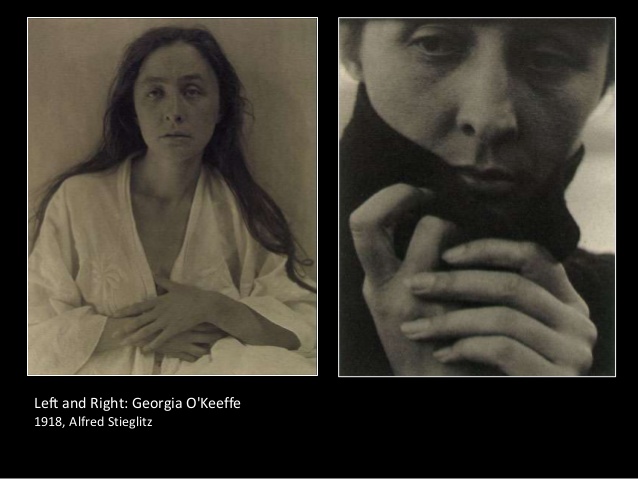 Another American art couple that went through life side by side is the one of Alfred Stieglitz and Georgia O'Keeffe. Although a bit more of the stormy character, the relationship between the two individually successful artists was built on love, where Vincent's above saying is truly applicable. Stieglitz was 23 years older than O'Keeffe, which of course didn't go unnoticed when they met in 1916, especially since Stieglitz was married to another woman at the time. The couple eventually married in 1924 and influenced each other throughout life.
Dorothea Tanning & Max Ernst
Another true love story in the art world is the marriage between Max Ernst and Dorothea Tanning. The two fell in love when Max Ernst visited the studio of Tanning's, started a game of chess and as they say, the rest is now history. The couple went on to live together until Ernst's death in 1976, most of that time passed in France.
Salvador Dali & his Gala
While not necessarily an art couple per se, given that Dali's longtime life partner didn't necessarily made herself a name as an artist, the couple needs to be mentioned. Dali without Gala is almost unthinkable, especially if you get to know the couple's life together in their beloved Catalonia, as we did when touring the Dalinian Triangle around Figueres.
Christo & Jeanne-Claude
The Bulgarian-born Christo married the Moroccan-born Jeanne-Claude in 1962 after being a couple for four years prior to that. The couple went on to live and create together until Christo's death in 2009, making their name especially for their outdoor, large-scale installations with environmental themes.
Inez & Vinoodh
For us Amsterdammers there's a famous duo in the photography world to keep an eye on. The two Amsterdam-born stars of fashion photography have worked together since 1986, very successfully we should add, being among the most sought-after photographers in the world for the big magazines and the even bigger stars like Bork for instance. Seemingly, their relationship looks just as successful.
The Bonnie & Clyde of the Art World: Niki de Saint Phalle and Jean Tinguely
A list of art couples like this one would be nothing without including the real "Bonnie & Clyde" of the art world: Niki de Saint Phalle and Jean Tinguely. In the 1960's France few other couples attracted so much attention as the fascinating relationship between these two artists. The parallels to Bonnie and Clyde are also explainable by their usage of guns and explosives in their often complicated pieces of installations. While their art was often explosive, their marriage was calm and harmonic, they were together all the way until Jean Tinguely's death in 1991 and they never stopped creating while continuously pushing the established limits.
Stormy Romances in the Art World
Not all of the famous art couples had sweet, harmonious relationships, although unquestionably most of them went on to use the conflicts defining their relationships into fruitful careers.
Frida Kahlo & Diego Rivera
Likely the most famous art couple in the world are Frida Kahlo and Diego Rivera. What possibly made their relationship so famous are all the scandals, betrayals and reunifications, which often created stories echoing through the art world. They married once, just to divorce later as a result of extra-marital affairs, only to remarry a year after they divorced. Despite the torridness of the relationship, the couple always seemed to have a mutual artistic respect for each other and after Kahlo's death Rivera witnessed in his autobiography that the day when Kahlo died was the saddest day of his life.
Lee Krasner & Jackson Pollock
Another couple classifying for a conflict-filled relationship was Jackson Pollock's marriage to Lee Krasner. While both were influential artists at the time of their encounter in 1942, Pollock's career later sky-rocketed, which created artistic insecurities for Lee Krasner. To avoid the public's automatic association of her as "just the wife of Pollock's", Krasner usually signed her work only as L.K., just to avoid being talked of.
Pablo Picasso & Francois Gilot
Picasso's love life was famously turbulent, so when at the age of 63 he met the forty years younger art student Francoise Gilot, it was almost written in the stars that the relationship wouldn't end well. The couple got children together, Claude and Paloma, but Picasso instead of marrying Gilot went on to wed Jacqueline Roque, whom he ended up living with until his death in 1973.
Jasper Johns & Robert Rauschenberg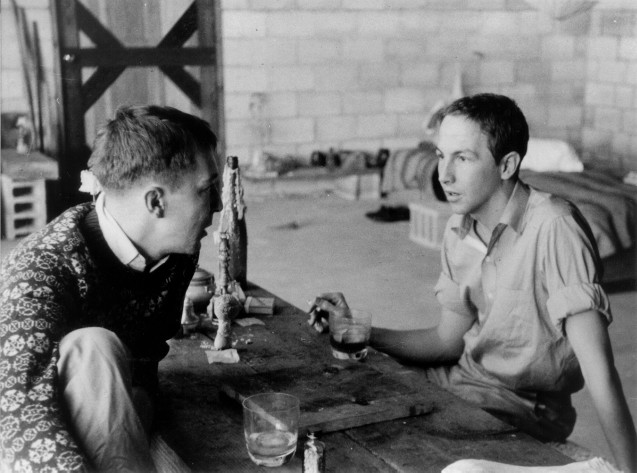 Two of the major names in the pop art world, Jasper Johns and Robert Rauschenberg, had a stormy relationship for six years. While they never openly admitted their relationship it is a well-known fact that the two were one of the first openly gay couples of the art world, a sign for a changing New York at the end of the 1950s.
Marina Abramovic & Ulay
Finally, to conclude with a couple that quite recently made the headlines in the art world is Marina Abramovic and Ulay. The two met in Amsterdam in 1976, instantly becoming lovers and performance art partners. Their stormy relationship lasted for a decade, when they symbolically ended their partnership by walking down from opposing ends of the Great Wall of China, to finally meet up somewhere halfway along the wall after some 90 days, to bid farewell from each other. In 2013 Marina Abramovic had her performance art show at New York's MoMa, where part of the show was to share a moment of silence face to face with anyone who so pleased. Needless to say, soon enough she found herself facing down Ulay, a dramatic "rencontre" that left both of them in tears.
This month's other contributions in the ArtSmart Roundtable can be found here, please take a look at them too, great stories in this month of the love birds.
Do you know of any other art couples whom you think should be mentioned here? Or any stories about the ones we told here that you think would add something extra for readers to know about? Please leave a comment here below, it's always appreciated.