The Dalinian Triangle
Salvador Dali's Universe in Catalonia
The ones familiar with Salvador Dali's surrealistic art may easily get curious about the artist himself, even wishing to get to know this extraordinary man more in depth, an artist who not only got synonymous with surrealistic art in general, but who also transformed his own reality into a surrealistic world. A good part of it can be found in north-eastern Spain, in Dali's Catalonia.
One of the ways to get a better understanding for the artist and his life, is to experience some of the most important places where he lived. These are all located in the Dalinian Triangle in Catalonia, Spain, Dali's province of birth.
Whilst most visitors to Catalonia will have Barcelona and the surrounding beaches as their main destination, the Dalinian Triangle offers some perfect breaks for when you have enough of the beach or the busyness of the Catalan capital. The route to explore Dali's life can be equally busy, but as we'll show you in this article, there are ways around.
Salvador Dali – The Artist
Already early in his life Dali showed a great interest for practicing arts. After first attending drawing school, he moved to Madrid in 1922 to study at the the Spanish capital's Art Academy. Here he got the most attention through his Cubist paintings, a style that until that moment was hardly seen in Madrid. His extraordinary, somewhat provocative character was clearly observable in those days. A story that survived tells of the occasion when he was expelled from the academy shortly before his exams, due to some strong opinions about the institution he studied at, which he expressed publicly. But it was not only just to stir things up, Dali saw life differently. He was more eccentric and enjoyed expressing himself outlandishly, in whatever possible way. Stories such as the one where he appeared at a party in a diver's costume or other ones involving flamboyant outfits are far from uncommon.
There is only one difference between a madman and me. The madman thinks he is sane. I know I am mad. – Salvador Dali
This said, after having been expelled from the Art Academy, Dali left for Paris for the first time. Here he got to know Picasso, Miró and companions. Although he was influenced by his peers works, simultaneously he clearly developed his own style, a style that by then was characterized by elements of impressionism, futurism and cubism and slowly resulted in his first surrealistic works. The Persistence of Memory, made around this time, remains to this day as one of his most famous works.
In the same year he painted this work (1929), Dali also met his muse and future partner, Gala, with whom he would spend the rest of his life.
In our quest to get to know the artist, let's start with our tour of the Dalinian Triangle, an area of roughly 40 square kilometers in Catalonia, Spain, where the three most important places in Dali's life are located.
The Dalí Museum in Figueres
The best place in the world to see an overview of Dali's whole oeuvre – from his Cubist period to his Surrealistic works – is the Dali Theatre and Museum in Figueres. This is the place where Dali's Catalonia has its beginning, where the artist was born and where he spent the last years of his life, after his wife Gala passed away. Th town of Figueres and its museum is nowadays visited by over one million visitors per year, a sight of a true pilgrimage.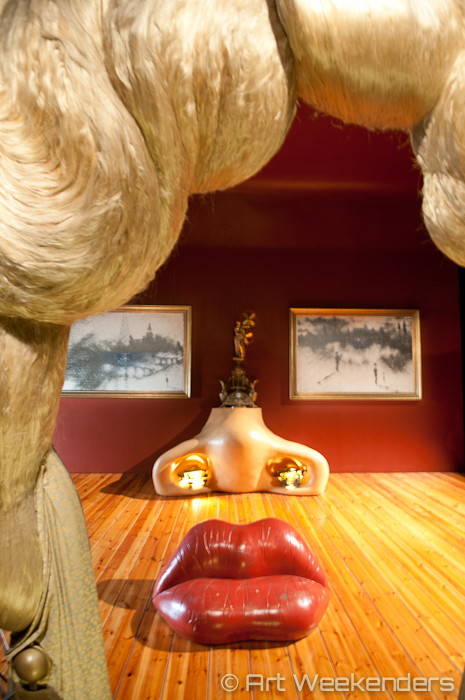 Now you might think of the Dali Theatre and Museum as yet another museum, but reflect over it quickly: Salvador Dali and just an ordinary museum? Since the surrealist master worked on the design and construction of the museum himself for its opening in 1974, and even afterwards, it is no surprise that it evolved to much more than just a museum. What you'll see when you arrive at the premises is a spectacular building, unlike any other you will ever see in your life. And the inside is likely what will blow you away even more.
I want my museum to be like a single block, a maze, a great surrealist object. It will be an absolutely theatrical museum. People who come to see it, will leave it with the feeling of having had a theatrical dream. – Salvador Dalí
Especially for those who only know Dali through his surrealistic paintings – but as much for the ones more familiar with his whole oeuvre – , the dream-like world you enter as soon as you step through the entrance of the museum may come as a surprise. Around 1,500 pieces of different type of artworks, from paintings to sculptures to installations to holograms give you more insight into Dali's imaginative mind, but also the diverse artistic skills he mastered. The Dali Jewels Gallery is just one of those places where you can see how meticulously Dali worked and how he mastered yet another skill, the one of the goldsmith.
How to get there? The Dali Theatre and Museum is located at the Gala-Salvador Dalí Square, 5 in Figueres, Spain. It is easy to get here by car or public transport.
Figueres has a train and bus station. If you can choose, take the train, this is usually the fastest. By train Figueres is about half an hour from Girona and 2 hours from Barcelona. The museum is a bit more than a 10 minutes walk into the city. Check the train time-table here.
TIPS AND OTHER USEFUL INFORMATION:
As the museum is immensely popular and one of the best visited museums in Spain, it tends to get busy. If you're not an early riser, prepare to queue for a while. When you like to prevent standing in line for too long, make sure to come as soon as the museum opens.
Another way to make the best out of your time and to prevent too much queuing is to buy your tickets online here.
Opening times depend on the season, so check the museum's website for the actual opening hours. On Mondays the museum is closed during low season, from 1 October to 31 May. During high-season the museum is open every day.
The entrance fee is 12 or 9 (discounted) Euros. Children under the age of 8 get in for free.
Every August there are special late night openings for a maximum of 500 people per night.
The Heart of Dali's Catalonia – Dali's House in Portlligat
Whereas the Dalí Museum gives you a thorough overview of the diversity of Dalí's artworks, the Dalí House in Portlligat is the place to go when you'd like to see where Dalí got the inspiration for his art and where he spent a lot of timing creating. Without a visit to this place you won't be able to really know who the artist was.
Whereas the house was initially – when Dali bought it – a small fisherman's house, throughout the years Dali extended it bit by bit and made it into a labyrinthine structure with different rooms at different levels, all connected via small passageways, with their own purpose.
With views over the little, romantic bay near the beautiful coastal village of Cadaqués we can very well imagine why the artist spent the largest part of his life here together with his wife, Gala.
Portlligat is the place of production, the ideal place for my work. Everything fits to make it so: time goes more slowly and each hour has its proper dimension. There is a geological peacefulness: it is a unique planetary case. – Salvador Dalí
This house was not only a place where the couple just lived and relaxed, it was also the place where Dalí worked either in his studio in the house or in the extra studio built in the olive grove area, both with a splendid view over the tranquil fisherman's bay.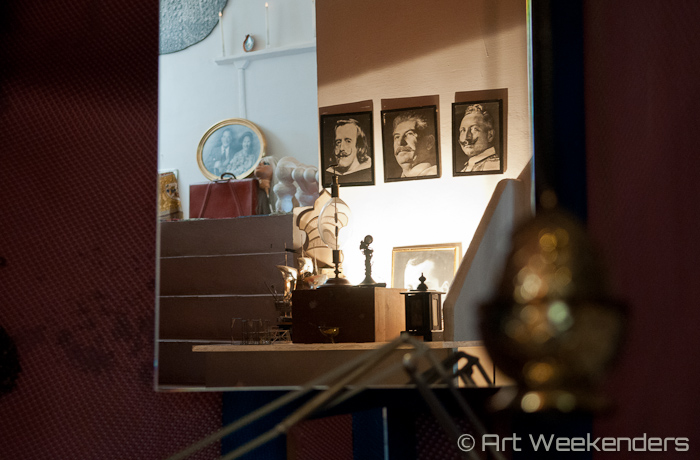 Although large part of the house was actually furnished by Gala, when walking through the house you clearly see Dalí 's stamp on it too. Just have a look at the outside area where the swimming pool is situated. While it's easy to see the quirkiness, it is also surprising tasteful. Yes, it has surrealistic elements, but it is not like stepping into one of the artist's wilder paintings.
How to get there? The Dalí House is located at the Portlligat bay, just outside Cadaqués, Spain. It is easy to get here by car. By public transport it is a bit different story due to Cadaqués only being accessible by bus, taxi or boat. There are no train connections.
Since buses in this area are relatively slow, it is best to take the train to Figueres and jump on the bus to Cadaqués from here. From Cadaqués it's about 15 minutes walking to Portlligat via backstreets. Check your route and the timetable here. We recommend to sort out your journey well in advance, also for the return, as bus and train services may be limited depending which direction you need to go.
TIPS AND OTHER USEFUL INFORMATION:
You always need to make a reservation to visit the house, since it is only accessible for 8 persons at the same time. You'll be guided through the house by a guide in about 40-50 minutes. If you haven't made the reservation before your visit (here) and postpone it until you arrive, there is a risk that you can't visit the House at the same day or that you'll have to wait for a while to get in. In summer it tends to get busy. After your online reservation make sure to pick-up your ticket half an hour before the indicated hour of your tour at the ticket counter.
Nearby Cadaqués is a very pretty village, exceptionally worth visiting too. It has loads of galleries and places to drink, eat and stay. If you have the time we recommend staying here for the night. Or why not longer?
Instead of visiting both the house and the olive garden, there's also an option to visit the olive garden only, giving you the opportunity to enjoy the view over the bay from one of the highest points around in the area.
Opening times depend on the season, so check the website for the actual opening hours. On Mondays the museum is closed during low season, from 16 September to 14 June. During high-season the House is open every day.
The entrance fee is 11 or 8 (discounted) Euros. Children under the age of 8 get in for free. For the olive garden only you pay either 5 or 4 (discounted) Euros.
Although there are some places around to drink or eat something while you're waiting to visit the house, Portlligat is very small, so don't count on a big supermarket to stock up on water or anything. If you're on a budget make sure to do your groceries in Cadaqués or perhaps even before.
It will not come as a surprise to hear that Dalí and Gala often went to cruise the bay by boat. Nowadays you have the possibility to take a boat-tour supposedly taking exactly the route the couple used to take, in the same boat as they used. In any case, a nice opportunity to cruise the Costa Brava coast for a bit.
The Gala Dali's Castle in Púbol
One day Dali – in the early days of their relationship – promised his wife Gala to give her a castle, a promise not left in vain. The artist lived up to this in 1968, when he bought his wife an 11th century castle in Púbol, Spain.
At that time the three-storey castle and its courtyard was in an advanced state of deterioration and needed a thorough renovation. Yet, the couple saw through this and found the medieval building had a truly romantic atmosphere. They made huge efforts to retain this atmosphere while renovating. We believe that because of these efforts this atmospheric feeling is still possible to experience today.
Although the castle was Gala's domain, Dali did help her to renovate and decorate the place. You will notice this when walking through the building and the garden by many details, ranging from the decoration of the garden to the painting of the ceilings.
It gave me pleasure to decorate the ceilings so that when Gala raised her eyes, she would see me always in her heaven. – Salvador Dalí
An interesting detail is that the castle was only accessible for Dali upon Gala's advance permission in writing. Dalí's wife put this condition when being given the castle as a present and Dalí respected this honorably. It was only after the much older Gala passed away at the age of 88 (Gala was ten years older than the artist), that Dalí started living in the castle permanently, as Gala was buried in one of the castle's rooms and he did not want to leave her alone. It was here, in the Púbol castle, where he created his last art works while living in solitude, in a similar fashion as his wife did before. After a fire in his bedroom in 1984 Dali was moved to Figueres, where he lived until the end of his life.
How to get there: The castle is located at the Gala Dalí Square in Púbol-la Pera, some 20 kilometres from Girona. It is easy to get here by car. By public transport it is a bit more difficult.
When you decide to come by train stop at Flaçà station. From Flaçà it is still 4 kilometres from Púbol. If you can't or don't want to walk to Púbol, you can take a taxi at the train station. Alternatively you can take the bus, get off in Flaçà and take a taxi, or go to La Pera, from which it is a 2 kilometres walk to Púbol.
TIPS AND OTHER USEFUL INFORMATION:
Opening times depend on the season, so check the website for the actual opening hours. On Mondays the museum is closed during low season (from 1 October to 31 May), during high-season the castle is open every day.
The entrance fee is 8 or 6 (discounted) Euros. Children below 8 get in for free. It is not necessary to make advance reservations, but you can here.
Close by Girona is a very charming city to visit too. Combining the Castle and a visit to this city makes an excellent combination for a weekend trip.
Salavador Dalí definitely puts an extra twist on the exploration of this area. But this is a region full of beauty in any case. Why not plan a long weekend or even a bit longer vacation in the area. Give yourself the opportunity to discover the area properly. Having your base in Girona or Figueres makes all the three sites easily reachable. You could of course also hop between the different parts of the Costa Brava and stay in different towns and villages. Having a car is definitely helpful here, but you can do it by public transport as well. In that case make sure you plan ahead as it is not always that straight-forward with connections and opening hours.
Enjoy your stay in Dali's Catalonia – enjoy the company of Salvador Dali.
---
Read more about Catalonia here:
---