Street Art Corner
from Girona, Spain
After a much welcomed summer-break we're back again with our Street Art Corner, this time from Girona, Spain!
Last week we spontaneously booked a flight to Girona, Spain, looking for some warmth and sun during the rainiest August we have had in Amsterdam for a long time.
As in many other Spanish cities, like for example Valencia and Barcelona, we encountered a good selection of street art in Girona as well.
Besides a lot of graffiti (and we mean really a lot!) we mostly noticed the walls in the Catalonian city being decorated with cartoonish characters. We did however also came across some bigger pieces of street art, such as the above one by the Ukrainian duo Interesni Kazki (located at Travessia Portal Nou 8).
Digging a bit more into the street art scene in Girona we discovered we just missed the Milestone Project, an annual street art event which took place in Girona during the past June. Unfortunately, we hardly saw any of the walls made for this project this year – apart from the above one of Interesni Kazki -, as we had limited time to spend in the city and only stayed around the old centre of Girona. This area still  seems to be fairly untouched by street artists in regards to big murals, apart from some decorated shutters and doors here and there.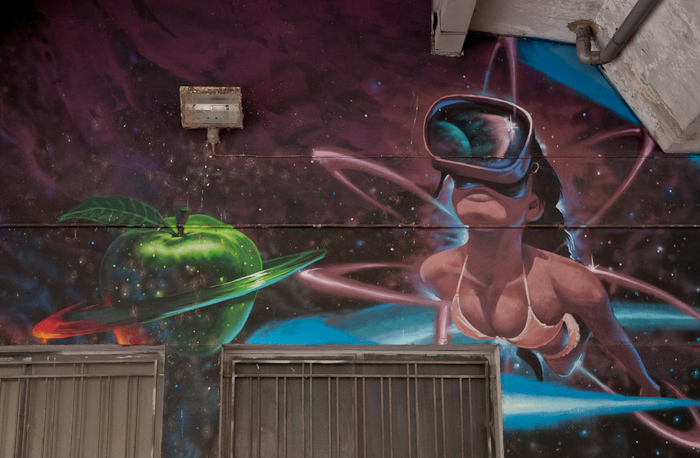 To give you an idea of the street art created for this project have a look at their Facebook page here. You'll likely still be able to find many of the Milestone Project creations when walking around the city.
Lastly, we discovered some nice public art through town for the Color Latent exhibition, a contemporary art exhibition at different locations throughout town. Perhaps it's not real street art, but we just couldn't withhold this one from you.
Do you happen to know the name(s) of any of the street artists which we showed works of in this article and which we don't know? Feel free to share this with us, so we can properly credit all artists.
During Street Art Corner we take you to street art at different locations around the world, one city at a time. Like to contribute? Feel free to send us an email at wkndr@artweekenders.com.
Like to see more street art from around the world?
Check out our previous Street Art Corner editions: