If you've been to Hong Kong, or some other of the Chinese mega-cities, you'll know exactly what we are going to refer to here. If not, we'll try to give you an idea, with the help of the German photographer, Michael Wolf.
For me personally, the enormity of the high-rises in Hong Kong is probably one of the most lasting memories of the city. Not as Hong Kong doesn't have plenty enough to feed your senses with, but by facing all the skyscrapers it's unavoidable not to reflect over how densely populated the city is. It's not like there aren't many other cities with skylines dominated by skyscrapers, but somehow the feeling is different: for instance in New York skyscrapers are mostly dominating the business districts, while in Hong Kong the striking difference is that often you'll see laundry hanging from let's say the 79th floor. People basically live up in the sky.
Clearly, I'm not the only one who got fascinated by this.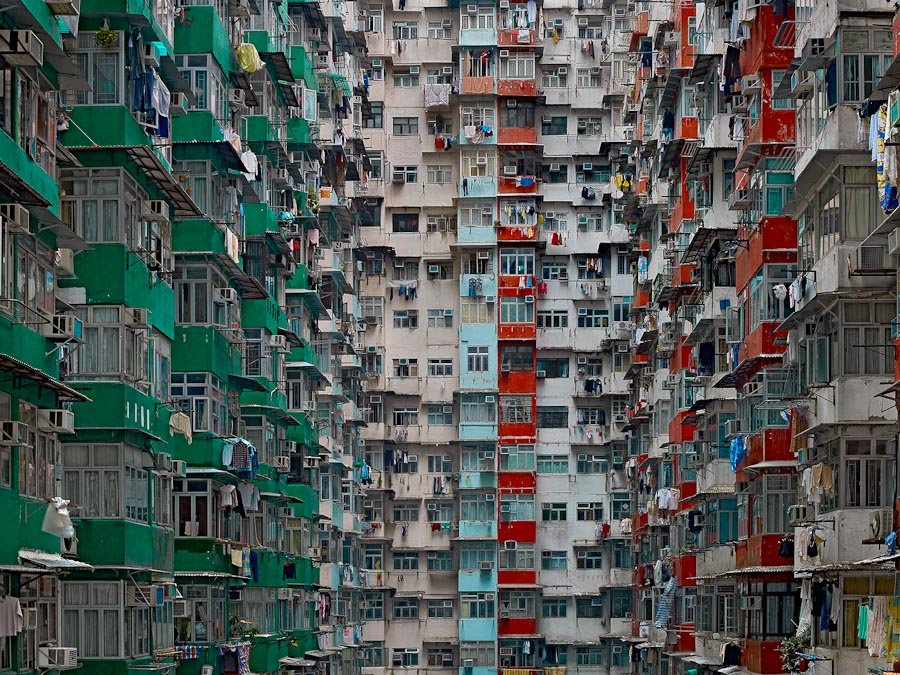 Recently the German photographer Michael Wolf was interviewed in the New Republic about his very personal photography project, 'Architecture of Density'. Being formally trained as a photo journalist and working as such for the German publication 'Stern' over many years, his project eventually took an artistic turn, resulting in large-scale fine art prints (usual sizes are 48''x 64'' or 70''x 90''), prints that soon became extremely popular with collectors.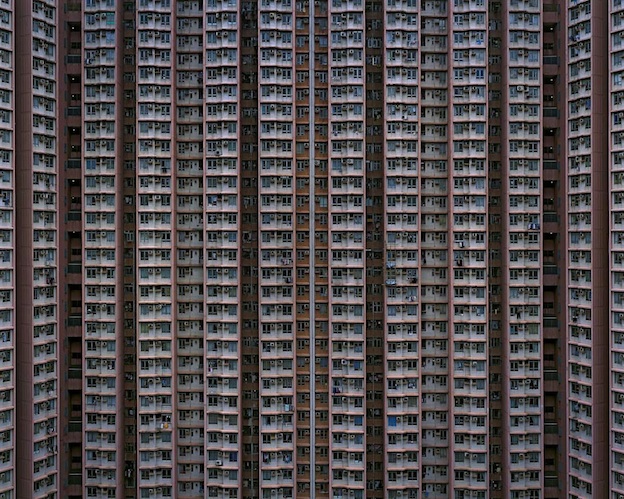 For us Europeans, and even for most Americans, this Hong Kong way of living is a completely different approach to life and we're not used to it. As the photographer himself puts it in the interview:
Europe was too predictable for me. Paris looks like a movie set, it hasn't changed in 120 years. You don't have massive buildings like this, so I developed the topic and I sort of covered different aspects of it. Architecture was one in a whole series of different themes which all have the large umbrella of "life in cities."
What at the end makes Michael Wolf's pictures really stand out is the way they get presented. Having the sky, land, streets cropped out of them leaves you with a complex pattern that from distance might even take a while to decipher. It's first when you start looking closer into the details that it becomes clear to the eyes that people live here, crammed into their tiny apartments where the sense of density is magnifying the enormity of today's 'mega-cities'. When soon 50% of the world population live in cities it's unavoidable to reflect over what it means for the individuals and their life quality, especially in Asia. Well worth thinking about.
Recently here in Amsterdam we visited the Unseen Photo Fair and some of the most striking photos on display were exactly these ones. Now in hindsight, relating to the full story behind the project makes them even more special, making the interview with him an excellent read.
If you would like to go through the whole series of Michael Wolf's 'Architecture of Density' series please visit his site, for a complete insight into the intricacies and details of Hong Kong's beehive architecture. On the photographer's website you'll also find his entire fascinating portfolio.
If you are interested, you can also buy his excellent photography book 'Hong Kong: Inside Out' on Amazon by clicking here.
All photos presented here are the copyright of Michael Wolf. The quote from above is coming from his interview in the New Republic, published on October 16th 2013.