Hundertwasser at ARKEN in Copenhagen
The ARKEN Museum of Modern Art in Copenhagen has been at the forefront of Danish art life for the past two decades. This year is not meant to be different, quite the opposite: the first major exhibition of the year is a high-profile, highly anticipated event. Hundertwasser (1928-2000) is in town.
'Hundertwasser – Artist and Eco Activist' is an exhibition strongly highlighting the artist's activist side and his strong belief in making a noticeable change for nature through his art. In many ways, it can be said that he was at least a generation ahead of time. His ideas about a green architecture, building in harmony with nature and the topics of ecology and 'urban gardening' were concepts that he already early on incorporated in his art. First now, decades later, these topics slowly start to be included on political agendas in some countries, but in many other nations they still remain just an utopia.
Typical for the Austrian artist was his strive for making his art reminiscing a living organism. Be it in his paintings or his architecture he strongly opposed the straight lines. This ARKEN exhibition of the artist's imaginative world is built around three separate building blocks:
'The Painter of Spirals' is focusing on Hundertwasser's efforts to capture the beauty of shapes and spirals on the canvas.
'The Fairytale Architect' is demonstrating the artist's Utopian architecture ideas and focusing on the models he build – some of them even got constructed.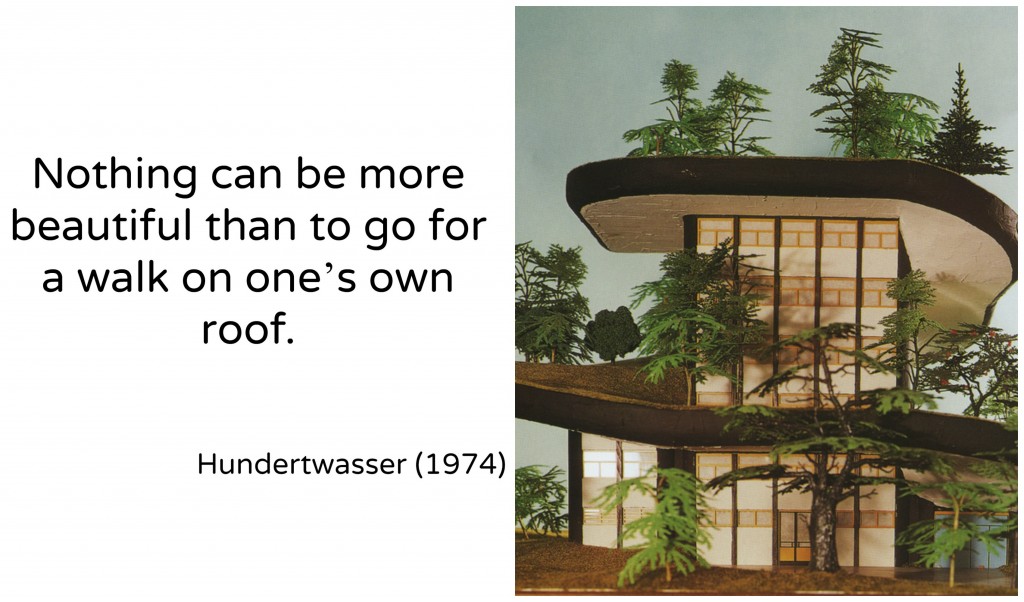 'The Eco-Activist' is finally showing the person behind the art and who Hundertwasser really was, and his ideas around how to have an organic lifestyle are demonstrated.
In 2014 Copenhagen happens to be the European Green Capital. Inspired by the Hundertwasser exhibition, ARKEN also put together an exhibition from its collection entitled 'Naturally', showcasing art inspired by and circling around nature. The aim of the exhibition is also to make the visitor reflect over his or her own relationship with nature and through art gain new insights.
[ale_tabs] [ale_tab title="Dates"]
February 1 2014 – June 1 2014
[/ale_tab] [ale_tab title="Regular Opening Hours"]
Tuesday-Sunday
: 10:00h-17:00h
Wednesday
: 10:00h-21:00h
Mondays
closed (although open on public holiday Mondays)
[/ale_tab] [ale_tab title="Admission Fees"]
Adults
: DKK 95 (EUR 12.75)
Students
: DKK 75. (with valid student-ID) (EUR 10.00)
Children
(0-17): Free
Groups
(min. 10): DKK 80.
Members club: Free
[/ale_tab] [ale_tab title="Address"]
ARKEN Museum of Modern Art
Skovvej 100
2635 Ishøj, Copenhagen South, Denmark
Phone: 45 4354 0222[/ale_tab] [ale_tab title="Website"]
Arken Modern Art Museum
 (English site) [/ale_tab] [ale_tab title="Map"][ale_map address="Skovvej 100, Ishøj" width="60%" height="120px"][/ale_tab]
[/ale_tabs] [ale_divider style="light" text="notext"] Divider Text [/ale_divider]
Are you interested in knowing what else is happening in Copenhagen? Please visit our exhibition guide for the Danish capital, including all major exhibitions worth visiting.
[ale_divider style="light" text="notext"] Divider Text [/ale_divider]
We'd love to have your continuous support. To read more of our stories and be on top of cultural activities from around the world of art and travel, please subscribe to our newsletter or follow us on Facebook, Twitter, Google+ and Instagram.
[ale_divider style="light" text="notext"] Divider Text [/ale_divider]