Although the new year has barely started, we are already looking forward to what the art and museum world in The Netherlands are planning for the year 2018.
Below you will find our first selection of exhibitions in The Netherlands we would love this see this year. Somehow it seems we will end up a lot in Rotterdam this year, but there is also a lot to look forward to in other parts of the country! From (photo) exhibitions that take us all over the world to the opening of one of the world's largest street art museums, there is enough going on to fill our art weekends in The Netherlands this year!
We will regularly update and further complete this overview throughout 2018, so make sure to come back again!
Here are our must-see exhibitions in The Netherlands 2018.
Roy Lichtenstein
3 November 2017 – 31 May 2018
Moco Museum, Amsterdam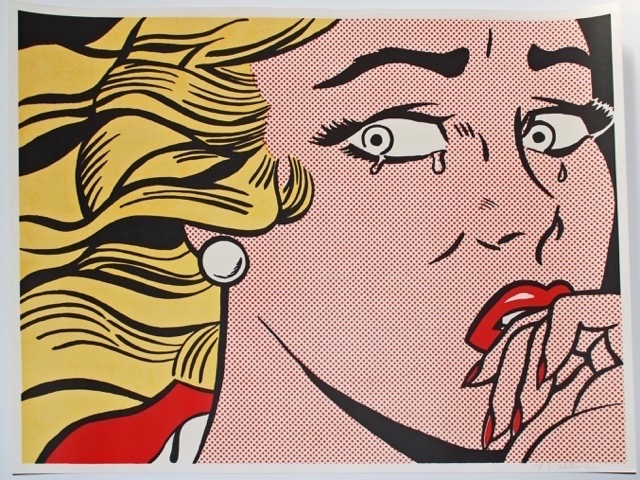 Until the end of May works of one of the world's best known Pop-Art artists, Roy Liechtenstein, will be exhibited in the Moco Museum in Amsterdam. The artworks will share the museum's space with works of street-art legend Banksy, which seem to have an almost permanent spot in the modern/contemporary art museum, that has put its mark on the Museumplein since its opening as recent as 2016.
Liechtenstein is mostly known for his comic-like paintings in bright, primary colors, in which he depicted his view of the (consumption) society. Did you know however that the artist also worked with ceramics, glass and steel?
Eddo Hartmann – Setting the Stage: Pyongyang, North Korea, Part 2
9 December 2017 – 4 March 2018
Huis Marseille, Amsterdam
As you will likely know, a visit to North-Korea is not that straightforward. Let alone taking pictures in and of the country. After long preparations the Dutch photographer Eddo Hartmann did however manage to get the official permission to take pictures of Pyongyang. It was not a permission to randomly photograph the North-Korean capital though. During the various times he spent in the country, he photographed the city under the watchful eyes of two guides and other passerby's. Although this could have easily led to the standard pictures we now and than see of North-Korea, Hartmann has managed to put his own stamp on the work, which once in a while seems meticulously prepared and clean.
Whereas part 1 of this exhibition (on show in 2015) mainly focused on the architecture as the propagator of the North-Korean ideology, this part 2 is focused more on the daily lives of people living in the country that is pretty much isolated from the rest of the world.
Jeroen Oerlemans
16 December 2017 – 4 March 2018
Kunsthal, Rotterdam
He was one of the few Dutch photo journalists often working in areas of crisis, like Iraq, Haiti and Sudan. Whether it would be war-zones or natural disasters Jeroen Oerlemans documented it, while giving these disasters a more human face. Unfortunately the courage and drive that took him to these far-away places appeared to be fatal for Oerlemans. In 2016 the three-time recipient of the first prize in the Silver Camera foreign News Category died after being shot by an IS sniper in Libya.
The exhibition of Jeroen Oerlemans in the Kunsthal in Rotterdam this winter focuses on Oerleman's work as a reporter and emphasizes the need for independent reporting.
Michael Wolf – Life in Cities
20 January 2018 to 22 April 2018
Fotomuseum Den Haag
Jacqueline Hassink – Unwired
20 January 2018 to 6 May 2018
Nederland Fotomuseum
Phantom Limb – Art Beyond Escher
26 January 2018 – 6 January 2019
Fries Museum, Leeuwarden
This winter and spring Kunsthal Kade in Amersfoort takes us to South Africa with the art of 15 young South African artists, who largely represent a generation that grew up after apartheid. For the exhibition 'Tell Freedom. 15 South African artists' the artists reflect on South Africa's past, present and future in a local and global context. While they examine the social, political and economical injustices in the colonial era and the apartheid era, they seek to understand their own position in today's society and to imagine their future too. Would it for example be possible that one day we live in a world that is based on humanity and equality?
Mikael Kvium – Circus Europa
8 February 2018 – 6 May 2018
Kunsthal, Rotterdam 
While I already saw the exhibition Circus Europa of the Danish artist Mikael Kvium in the Arken Museum for Modern Art in Denmark earlier this year, I would certainly not mind seeing it again. It is an exhibition with an up to date theme: the crisises we are currently facing in Europe, both from a political angle and social angle.
Eli Dijkers – Chinese Journey
10 March 2018 – 7 June 2018 
Kunsthal, Rotterdam
The Dark Side of Dick Bruna
10 March 2018 – 7 June 2018
Kunsthal, Rotterdam
Hyperrealism: Sculpture
10 March 2018 to 1 July 2018
Kunsthal, Rotterdam
Keramiek Triënnale 2018
11.03 t/m 10.06.2018
CODA Museum, Apeldoorn
Van Gogh & Japan
23 March 2018 to 24 June 2018
Van Gogh Museum, Amsterdam
Hito Steyerl, Ben Rivers and Wang Bing
24 March 2018 – 27 May 2018
Eye Film Museum, Amsterdam
Streets of The World – Jeroen Swolfs
As from mid April 2018
Hembrugterrein, Zaandam
Travelling the world and having your photo's exhibited is something that many travel photographers can only dream of. Imagine if the space is as big as the 3800 m2 venue at the Hembrugterrein in Zaandam! Photo journalist Jeroen Swolfs made this dream become a reality.
After 7 years of travelling through 195 countries around the world, documenting street life in the capitals of all countries, his photos can now been seen in real-life scale in a venue, which once upon a time was part of an artillery factory.
In his photo-series Streets of The World Swolfs has documented the daily life of normal people around the world with the idea to bring across a positive image of the world. Although we are regularly fed with negative images of other countries, the reality is actually far from this, as you will see throughout the exhibition.
The exhibition Streets Of The World is located at the Hembrugterrein, an industrial area of Zaandam, just north of Amsterdam and will be on again as from mid April. 
Sculpture garden Castle Het Nijenhuis
until 31 December 2018
Museum De Fundatie, Location Castle Het Nijenhuis 
One of the museums which we still haven't visited until this date, is Museum De Fundatie in Zwolle. The museum, which has a collection with works from the Middle Ages to the present day, consists of two locations, Castle Het Nijenhuis in Heino and the museum De Fundatie in Zwolle.
The reason that we plan to visit this museum before the end of the year is that the sculpture garden is currently indicated to be open until the end of 2018. Thus, we better visit it before it closes! With some 90 sculptures from collections of Museum De Fundatie, Museum Beelden aan Zee and the Province of Overijssel at 4,.5 hectare of garden, lawns and woodland the sculpture park of Castle Het Nijenhuis is one of the largest sculpture gardens in The Netherlands.
World Press Photo  
Street art museum
Opening Summer 2018
NDSM Wharf, Amsterdam
In the summer of 2018 a new street art museum will open at the NDSM Wharf in Amsterdam. With a surface of 7,000 square meters it will likely be one of the largest street art museums in the world. The actual location, a former welding hangar with walls as high as 24 meters , is an ideal spot for a museum of this kind. Work on the museum has already started in 2015. Thus, parts of it have been visible for the public already for a while. We have already seen the beautiful Anne Frank painting by Eduardo Kobra and the recently revealed mural of the former mayor of Amsterdam, Van der Laan, for example. What else we can see is still a bit of a guess. Count on some of the best street artists taking part in this event.
'Action <-> Reaction. 100 Years of Kinetic Art'
22 September 2018 – 20 January 2019
Kunsthal, Rotterdam
Museum Night Amsterdam

November 2018
Different institutions throughout Amsterdam
Amsterdam Light Festival 
Throughout Amsterdam
Are there any exhibitions in The Netherlands which we have not added and you think are worth visiting too? Let us hear from you!