Banksy's World Coming to Amsterdam
Banksy – you know that famous guy from Bristol that nobody seems to know, who instigates us to think and observe our world a bit differently through his street art creations? – is in our town of Amsterdam for the coming six weeks. Maybe not in person, but definitely in spirit: the Lionel Gallery on Amsterdam's Nieuwe Spiegelstraat arranges an unauthorised exhibition of Banksy's work, what must be one of the biggest ever shows of the reclusive street artist's works outside the United Kingdom. Quite a feat to pull off, we think, and our visit to the Lionel Gallery definitely confirmed that our excitement is justified. This Banksy exhibition in Amsterdam is a not-to-miss opportunity, for the generally curious, the street art afacionado and the collector alike, who'd like to make a possible deal of a lifetime with the future in mind.
As always with something worth seeing, the exhibition left us with plenty of questions to ponder over. Street art? What is really going on with you?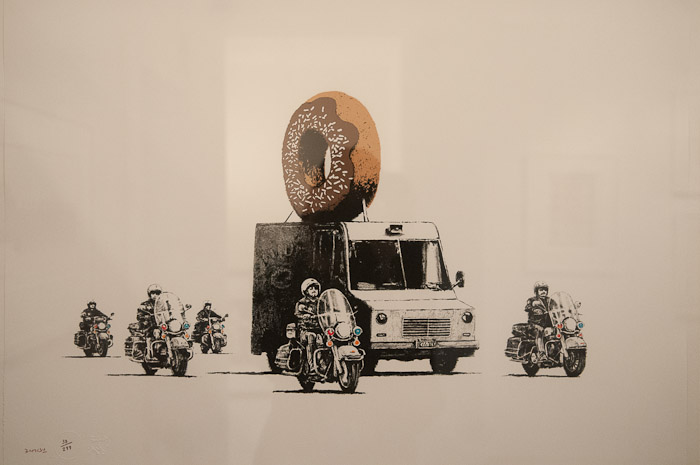 Street art 2.0 – We're in a new era
What happens when a change takes place? Not a revolution necessarily, but a change of the slower kind, something you have time to get used to, but still every time you feel slightly surprised being confronted with. Somehow though, those are the changes that impact you deepest. They give you enough time to reflect, to grow together.
A clear phenomenon strongly qualifying for this category is without any doubt the current state of street art. It's fair to say that a lot has happened in the past three decades. For instance we – our generation – grew up, grew older, we're at the brink of new stages in our lives (yes, it's ok to call it the middle-age). The passing of time hasn't left the phenomenon of street art unaffected either, things have clearly happened there as well. A lot even. Street art is not just a form of expression of rebellious teenage angst, it is having a deeper meaning, often reflecting upon our surroundings and challenging the world we live in.
Who else if not Banksy, to use just an example. What the artist represents today is not the same as what the artist aspired for in the eighties. Like it or not – and very likely the same goes for Banksy himself – popularity brings with it fame, fame brings with it "mainstreamity", which in turn brings with it money. But what happens to the old ideals? And what is the value of art really? I'm sure you agree those are just some of the many good questions you can spin further on while pondering over the fate of a guy from a well-off neighbourhood (at least what 'they' say) of the English city of Bristol who deeply affects millions of admirers worldwide over a few decades now.
Street art all around us
If you have followed us for a while you undoubtedly must have noticed that we have a thing for street art. Just look into our 'Street Art Corner' gallery and you'll be convinced that we are on a constant hunt. But in general, we tend to look around for street art around the 'shady' side of town (exaggeration intended) or at least behind that hidden corners off your usual grid (maybe exception of Berlin street art and Ghent street art then, examples of cities that truly embrace street art in the middle of their historic centres). But how to react when street art hits the fine galleries of our refined cities? Let's say the famed art district of Amsterdam, the Spiegelkwartier, where all the famed art dealers have clustered their shops for generations? Should we be terrified? Shocked? Happy? Confused?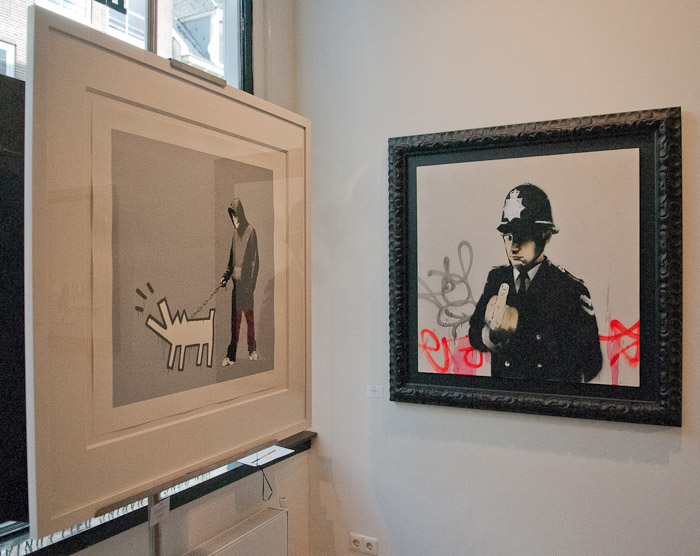 Lets get over it, by now street art is way beyond graffiti (only). Sure, it still has a place to express the more simplistic gang symbolism around city ghettos, but it has evolved way beyond that stage. A few pioneers like Keith Haring and Jean-Michel Basquiat paved the early road already in the Eighties, but loads more have happened since. Just watch television for a while, and before you know it there will be some kind of street art link in commercials. In fashion? Sure enough you'll quickly find street art influences in there without maybe even realising it. Thus, no surprise that street art is moving into the galleries as well.
Street art – Change and Value
We might get occasionally a bit surprised when we reflect over the price tags certain artworks carry. No exception with street art and it's move into the finer art collector-world. The big difference of going to a gallery instead of a museum is always that very same: the unavoidable fact that you can actually buy a piece of art for yourself – or maybe more likely reflect over the fact that someone else will. So the value of art becomes a bit different. But what makes good art worthy is if it makes you move: your feet, your soul, your mind – or maybe all of them combined at once. If it's unique. What we might not always remember is that other movements likely went through similar changes and evolved into fine art, be it pop art, art deco or design in general. Change is good, for the arts and otherwise. Many questions…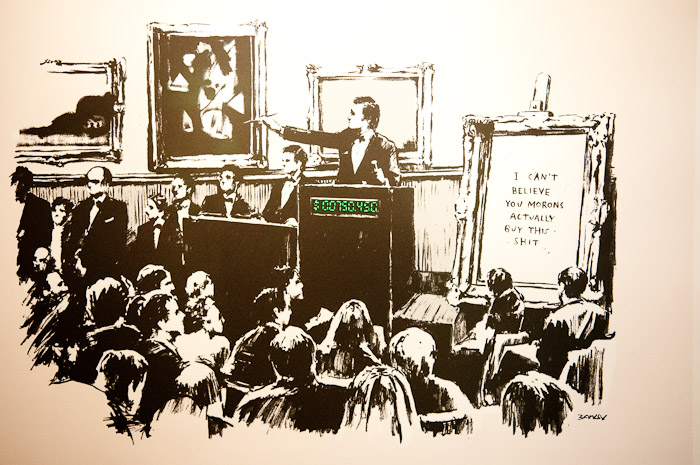 Banksy at the Lionel Gallery: 'Keep It Real'
What can you expect if you visit the Lionel Gallery? Is there a chance that you might get surprised if you know Banksy already well enough? In most ways, yes. That you will enjoy it we can guarantee. The exhibition is circling around some ten original works where the masterpiece to look out for is the 2.5 meters tall 'Forgive Us Our Trespassing', a painting the artist used for the original promotion of his movie 'Exit Through the Gift Shop'. The rest of the exhibition is made up of signed and unsigned limited edition prints – feel free to ponder over why a signed print is worth 6-7 times as much as an unsigned one, and if that's a really a fair proportion to the price difference. The collection on display presented by the Lionel Gallery is rather unique and it encompasses a large overview of the works from the artist's most popular days from especially around the mid 2000s – in terms of exposure to the world at large at least – when most of his iconic stencils turned up around the world.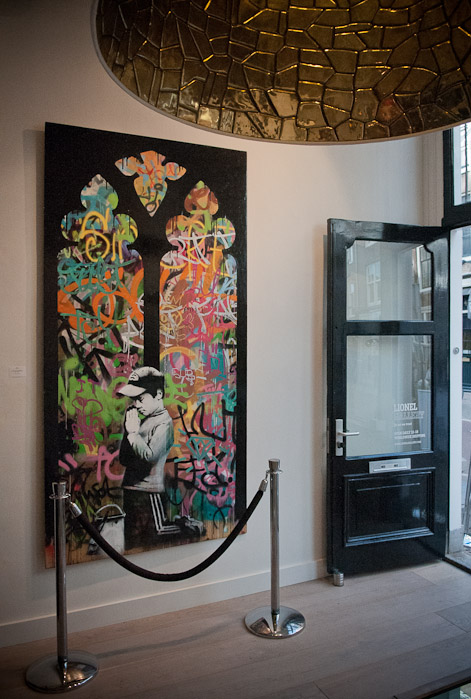 Most importantly, the exhibition is also about the BIG values. Banksy is after all – at least I'd like to think so – all about opening our eyes to our world and helping our conscience to evolve. His political, satirical view on things with that little unique extra of humour and sarcasm is everywhere. Do we care when we see his work? We sure do. Can it be exactly the reason why we welcome it to what some called the 'opposite world of where street art belongs'? Could just as well be.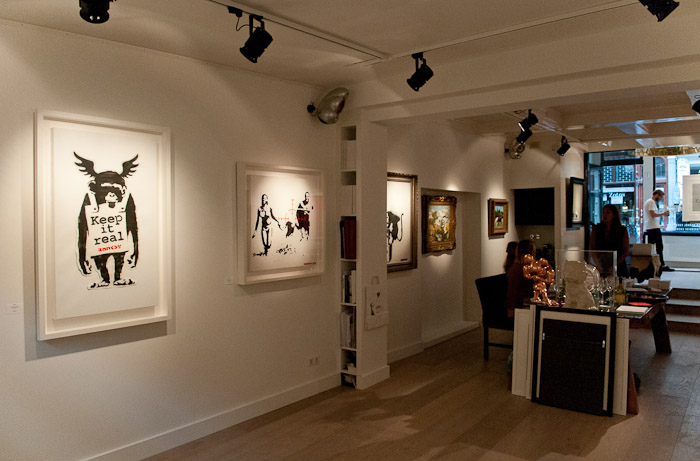 Practical details of the Banksy Exhibition Amsterdam
Better hurry up. The Banksy 'Keep It Real' Exhibition has been extended until the 30th of July. The place is Lionel Gallery, where Kim Logchies will happily welcome you and we can guarantee that she'll take her time to answer to your curious questions. The address is Nieuwe Spiegelstraat 64 in Amsterdam's art district of Spiegelkwartier, just a short walk from the Rijksmuseum. To go through the exhibition you'll need a good half an hour, maybe up to an hour. Entrance is free, and no, you don't have to buy anything if you don't want to – although the book published for the occasion is definitely a good catch even for the smaller pocket. Enjoy – it's well worth it!