ArtZuid
Amsterdam's International Sculpture Route
This post is part of the monthly ArtSmart Roundtable, a group of art-loving travel bloggers all writing about a common theme once a month. The theme of this month is Festivals and our pick is the festival-like event ArtZuid taking place in Amsterdam the coming months. Make sure to also check out the other contributions for this month, mentioned at the end of this post!

The summer is about to start again in Amsterdam. This usually means that the regular attractions in the centre of the Dutch capital are getting more and more crowded. For those who would like to avoid the hustle and bustle of the city centre for a bit, a great open-air exhibition just opened outside the city centre: the International Sculpture Route ArtZuid.
(update 1 May 2017: the next edition will take place from 19 May 2017 to 17 September 2017)
2.5 kilometers long art route
The biennial International Sculpture Route ArtZuid is a 2.5 kilometers long art route running through Amsterdam's 'Oud-Zuid' (translated as 'old-south') neighborhood. The route consists of some 66 artworks by 21 different international artists and is one of those events we love to see coming back to Amsterdam every other year. The growing visitor numbers of each edition and the awards the event received, confirm its popularity. The last edition attracted around 380,000 national and international visitors. With this year's set up we somehow expect this number to be even higher, at least if the Dutch weather cooperates.
This year's edition
For this fourth edition its curators Rudi Fuchs, former director of the Stedelijk Museum, and Maarten Bertheux chose for a different set-up compared to the three previous editions. Instead of displaying one single work of many different artists, this year ArtZuid focuses on a limited number of artists. ArtZuid, quite unusually, exhibits a group of sculptures by each individual artist, something we do see in museums, but hardly in an urban environment. Internationally acclaimed artists like Georg Baselitz, Jaume Plensa, Tony Gragg and KAWS all decided to contribute to this year's edition.
With the lush green urban space of the Minerva- and Apollolaan in Oud-Zuid as a starting point the artists and objects were all carefully selected by the ArtZuid team, in this way making sure that the beauty of each single sculpture would come out best at each different location. Something they succeeded in well, we are happy to confirm. While wandering through the route we noticed that each single object looks in proportion with its urban environment perfectly, while the groups of sculptures placed together also show a clear connection.
Berlage's Architecture
ArtZuid is not only about art though. Already when the private initiative was born back in 2008 the goal of ArtZuid was to not only display art, but to also highlight the result of the architect Berlage's monumental Plan-Zuid. Although this will be interesting for architecture lovers in particular, it's as interesting for other visitors and also for us Amsterdammers to learn more about part of our own city we often cross.
Let's now just hope the summer will arrive in Amsterdam to enjoy the route at its best!
---
Details & tips:
– This year ArtZuid event is on from 22 May until 20 September.
– The ArtZuid route can be found on the Apollolaan, the Minervalaan and part of the Zuid/ WTC area. From the Museumsquare – where one object can be found – it's about 7 minutes walk to the Apollolaan. Alternatively take a tram. Line 2, 16 and 5 all stop either at or close to the art route.
– ArtZuid is accessible for free. You can get a map of the art route at the ArtZuid pavilion (Minervalaan 1, Amsterdam). Here you can also have a drink and/or bite and find the children's atelier.
– Walking the whole art route would take you approximately 1,5-2 hours, keeping in mind you will take some pictures here and there. You can of course also take longer and for example have a pick-nick along the way.
– Like to learn more about the sculptures and the area? Download the ArtZuid Audiotour App or book a tour with a professional historian via the website of ArtZuid. The tours are available in English and Dutch. There's also a catalog with more background information available.
– Would you like to have your children learn more about art too, or are you perhaps taking them along? The ArtZuid organization is also doing a good job of involving children. It has a special free educational program for schools in and around Amsterdam, who can use the material in class and visit the exhibition with their own teacher or upon request with a guide. Also, children can join the kids atelier during the weekends and on Wednesday afternoons and go on Art Camp during the summer.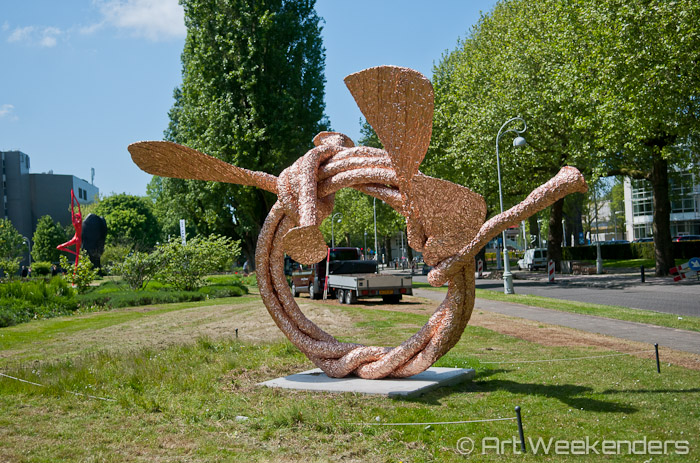 ---
The other ArtSmart contributions for this month are:
Wanderfull Traveller – Art & Wine Festivals Around the World
Daydream Tourist –  Including Local Celebrations in Your Travels
Wanderarti – Explore the Arty Side of Europe This Summer With These Creative Festivals
This Is My Happiness – Summer Travel Inspiration: Festivals 2015
Interested to hear more from the ArtSmart Roundtable, like our Facebook page for regular updates too.
---