The Clouds of Urszula Korwin Kochanowska
 – Artist in Focus –
Once in a while we come across some artworks that just stick in our minds, which make us go back for another look several times. It can be just because they make us smile through their beauty, or their simplicity, or thanks to the colours or the themes. This was also the case with the art of Urszula Korwin-Kochanowska, the young Polish-born artist, who we got to known via our Facebook page.
For her project My Cloud Art Urszula paints people in daily-life situations, more often than not surrounded by clouds, but always depicted in Urszula's refined, colourful style.
Through her images we became more curious of her art, her inspiration and moreover after Urszula Korwin Kochanowska, the artist herself. That's where we decided to interview her as part of our new series, Artist in Focus. As a result thereof, first out in the series, below the interview we recently had with the creator of My Cloud Art, a project we believe you'll enjoy getting closer acquainted to.
Art Weekenders: Can you tell us more about your background and education?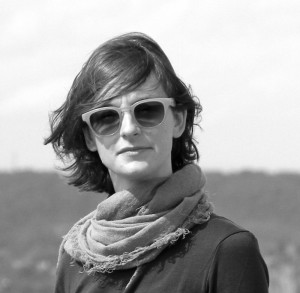 Urszula Korwin Kochanowska: I was born in Poland in 1984. As far as I can remember I spent every spare moment drawing, painting, making all kinds of things with clay or building little men with chestnuts. And I always knew that I wanted to be an artist. After high school I decided to go abroad and look for new inspirations, opportunities and challenges. That's how I ended up in the big city of London.
There I graduated from the faculty of Design for Performance at the Central St. Martin's College of Art and Design in 2008.
 The experience I gained there was priceless! During my internships at the department of stage design and the model room of The Royal Opera House in Covent Garden I was working on many great and cool projects. In the meantime I was fortunate enough to complete an internship at the world-famous Atelier Pietro Longhi in Venice, where I worked on the creation of historical costumes for the opera and the Venice Carnival.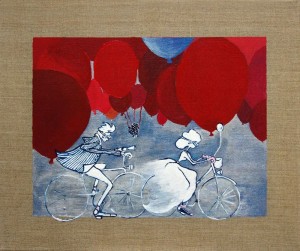 But life is full of surprises and unexpected situations and I became kind of a "victim" of it. Why? Because my first artistic project after graduation was a feature film. I got an offer from Poland to be a production designer and I decided to accept this challenge. I worked for Jan Jakub Kolski, the well-known polish director and winner of many prestigious awards. The result was apparently pretty good, since the movie "To Kill a Beaver" was awarded at the 47th International Film Festival in Karlovy Vary. Afterwards I became a part of the team of the renowned Polish production designer Joanna Macha. We did a couple of movie projects together, such as "Drogówka" (2013) and "Jack Strong". In 2013 and 2014 I created the set design for the Teatr Kamienica in Warsaw.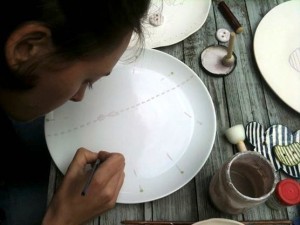 I fulfill my passion as a freelancer in different areas of art, such as paintings, drawings, graphics and storyboards. I still create scenery design for various projects, films and theatre performances.
 Even though work for film and theatre is cool and a great adventure I remain faithful to what I love most – painting and drawing and I am trying to doodle all the time.
 When I find a spare moment, I make for example an earthen bowl, or grab a needle and saw myself a new bag.
AW: What are the techniques and materials you use?
UKK: What I love the most is to paint on natural linen canvas using acrylic paint. This is important to me because I love all what is natural and simple. I like to play with the simplicity of this material and I'm making it consciously part of the story I paint. Maybe this is a reflection of my admiration for the paintings of the impressionists, especially for Toulouse-Lautrec.
AW: When we discovered your work through Facebook we kept returning to it since we feel it has such positive, happy vibes. Is this the feeling you want to bring across with your work, or do you perhaps have a very different emotion that you like to trigger? 
UKK: The world around us is full enough of pain, war and suffering and what you just pointed out is exactly what I am trying to accomplish with my paintings. I hope that everyone who takes a look at my paintings will find the child in him/herself and will smile seeing the clouds – both on the painting and in the sky.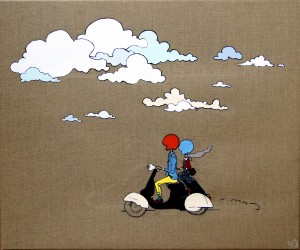 AW: You have a very clear and personal style. How would you describe it? 
UKK: Whatever you mean I want to say: Thank you! It's nice to hear that my style is clear. Someone said: "Beautiful things don't ask for attention" and I think this is the best definition and explanation of my style. I love and believe in the beauty of simplicity. You don't need a million lines to draw a figure. I drew a lot all of these years and it learned me to point out most important details and make a figure with one line instead of many.
Simplicity, that's the key, the way and the goal at the same time. And it is all coming from the inside, but if you need to put some kind of sticker on it and name it, feel free.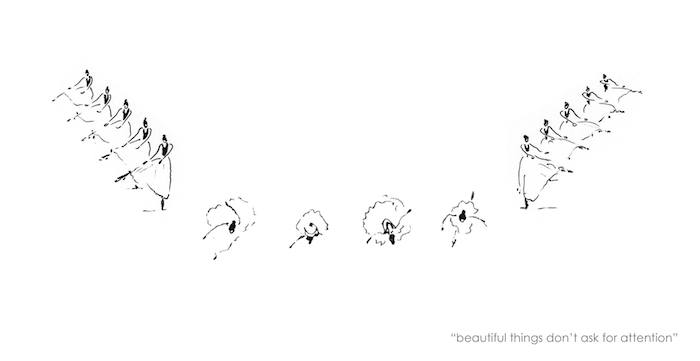 AW: Likewise the themes in your work are very similar, like the people on bicycles or the clouds around them. Can you tell a bit more about the themes in your art works? And how about the My Cloud Art project/name, where does it come from?
UKK: As every artist I have my head in the clouds and I love the clouds! 

They are so cute, so soft, so nice, so friendly, so unreachable, so unpredictable.
They are so far and so close at the same time.
 How not to love them? As they are always around me, so are they on my paintings.
The themes? No big theory… When I'm going to the park, to the shopping center or wherever, I am watching the people's life around me and later I put that on canvas… Many of the ideas for my paintings were very spontaneous and so was the My Cloud Art project. I think you will see now that the name for it was obvious.
AW: Where can our readers find your work apart from online? Are you perhaps exhibiting your work somewhere? And can our readers buy your works somewhere? 
UKK: At the beginning I put up my work on various auctions in Poland. 
I participated in a number of exhibitions so far, namely
"Print & Drawings" at The Toads Mouth Too Cafe in London (2009-2010),
"Mama, Ulka i Ja" at the Gallery in Andrzejów, Łódź, with ceramic, paintings and graphics (2012); "Pierwszy niezależny salon młodych twórców" at the Gallery Wytwórnia, Łódź (2014) and "Pierwszy niezależny salon młodych twórców" at the Muzeum Miasta Łodzi, Łódź (2014).
Right now I'm working on some new projects and exhibitions, but you can still find my works (and buy them) on Free Arts On Sale.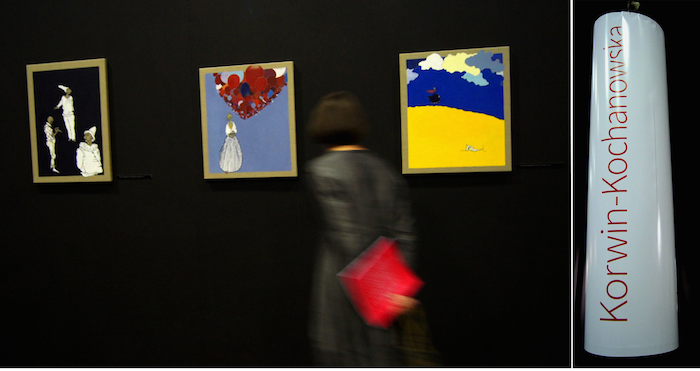 You can also contact me directly by sending me an e-mail at mycloud.art@gmail.com
AW: We all know the life of an artist can be difficult financially, especially when just starting. Is this something you do full-time, or do you have other jobs next to this? If so, are they art-related? 
UKK: As you have already noticed I am not that lucky to live out of my paintings only yet and I do other things as well. Some of them are art-related, others not really. One of my latest projects is the design and paint interior of a café. Art-related or not?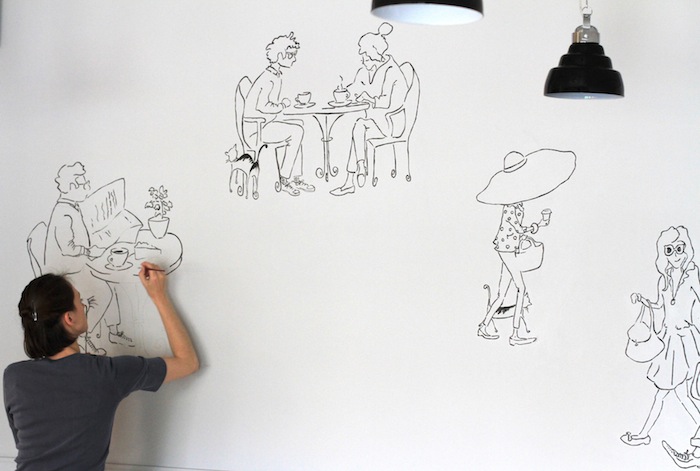 AW: Do you have a goal with your art?
UKK: My goal with art is to bring smiles to people's faces. I want to bring a joy to all who will see my art. But if creating art allows me to make a living, or what you called to be a full- time artist I won't complain.
AW: Selling art online is becoming more and more popular. What do you think of that as an artist? Would you do it yourself, or have someone else do this for you?

UKK: I don't like it at all! Nothing can replace the real-life experience and physical encounter with an original piece of art!
 But isn't it a mark of our times? What can we do? Somehow we are all pushed to participate in this artificial virtual world. Of course, there are also benefits of the global village. One of them is that we are now talking to each other doing this interview…
The online world is also a great way and opportunity to promote art and artists around the world and make art even more global and for the common benefit and goodness.
 I'm blessed to have someone who takes care of this part. Thank to my "marchand", so I can focus on my clouds.
AW: Is there something else you would like to share with us/our readers?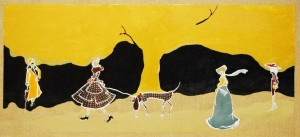 UKK: On this occasion, I would like to thank you for your interest in my art and me as a person, and also for giving me the opportunity to introduce and present myself to your readers and other art lovers.
 To all who read this I want to say: don't forget that you are the most special, unique and beautiful piece of art created by the greatest artist!
When you look up on the cloud, think of me and just smile!
Update: Ursula now also sells her work on Etsy.com, click here to see her online shop.
The 'Artist in Focus' Project on Art Weekenders
As a new initiative on the website, we'd like to give artists we discover a window of opportunity to present themselves while we also get the chance to get to know them a bit better. It regularly happened in the past that we came across some artworks we really liked, often by artists we never heard of, making us curious about the person behind the hard work put into creating the pieces in question. With this project we'd like to create a place where we can highlight someone special, someone creating something beautiful, inspiring and/or thought-provoking.
Are you an artist yourself or do you know someone who you think would deserve getting  the attention of an extended audience? Get in touch. Of course, time and space are limited, so it won't be possible to feature all projects. Also, since art is something very personal and Art Weekenders is an equally personal project of ours, it will always be important that we feel that the match is right.