Art Treasure Hunt at the Rijksmuseum
This is your chance to win a signed copy of the newly published book by Alain de Botton: 'Art is Therapy' is up for grabs, please read on for the background to the story and see at the bottom of the article the little you need to do to have the chance to win the book.
A few weeks ago we attended the grand opening of the 'Art Is Therapy' exhibition at Amsterdam's Rijksmuseum. This was an event in the company of the philosopher Alain de Botton and the art historian John Armstrong, the brains behind this unusual approach to a museum's permanent exhibition. Besides being a thought-provoking and fun occasion, it was an intense and very busy day; Rijksmuseum at one of its usual hectic days.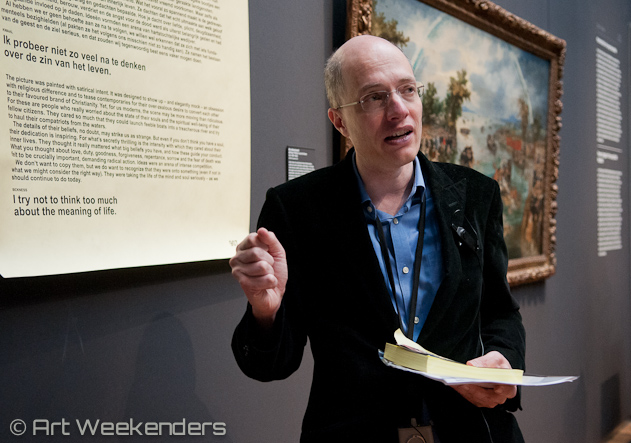 First impressions tend to be blurred when there's too much to focus on. Therefore, to get the attention back on the project itself, a few days later it was time to go back and see the exhibition in action, see how visitors would actually relate to it. Contrary to how we imagined it prior to the opening, the actual exhibition doesn't involve a re-arrangement in space, rather a call for attention around existing works on display. Somewhat surprisingly, big yellow post-it-like "notes" are the tools used for highlighting this different kind of art experience.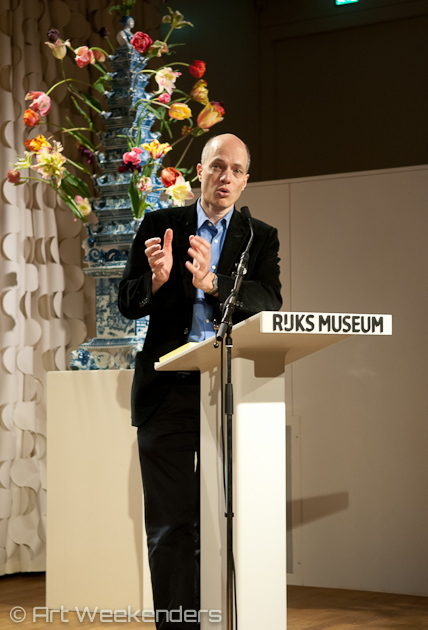 The 'Art Is Therapy' exhibition at Rijksmuseum is based on the book 'Art As Therapy' by Alain de Botton and John Armstrong. It's a book that created quite a stir when it was published in November last year, resulting in generally positive and enthusiastic reviews, but there have been those who thought completely differently about it too, like the New York Times Book Review. While in that article the love for de Botton is totally missing, thankfully, most others thought the opposite, like The New Yorker who saw a great value in it. Reviews by Amazon customers vary as well, but in general the impression is more positive than not.
But who is right?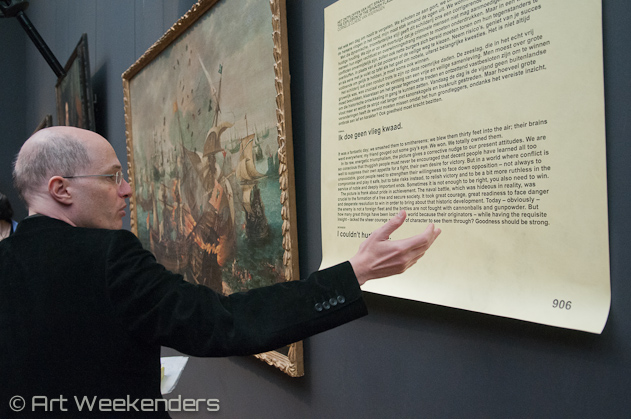 A Great Book Posing the Right Questions
As books go, 'Art as Therapy' is a beautiful work, which in its hard cover and high quality paper takes the reader on a journey through the world of arts over different styles and epochs. The great merit of the book, however, is its ability to pose questions that make the reader think. Even if you're not especially interested in the arts, the book will likely manage to catch your attention and provide food for thoughts. After an initial discussion of the methodology to apply for "art as therapy", there are four main areas from life covered: love, nature, money and politics. Do they feel like the main areas of our lives we mostly are preoccupied with?
The first part of the book is easily the most captivating part of it, where what can be called as the diagnosis for what role art could have in life takes the central role. Some of the criticism the book received – or rather Alain de Botton himself – is when the book turns into the "therapeutic" section, where the authors come with the solutions for how people should look at art. It's easy to see why some people finds problems with this, it can easily come across as "patronising", to use the word the New York Times used. However, if you choose to look at their advice as one possible solution, while ultimately it's up to you how you find the answers best suiting your situation, the idea comes into a completely different light. That's possibly a criticism we could agree with. It surely feels that the "therapy" part might send out the wrong signals; for us it feels that using 'art as guidance' would've sent out a more appropriate message. But then again, we're not the philosophers here, are we?
the Exhibition: Art Treasure Hunt at Rijkmuseum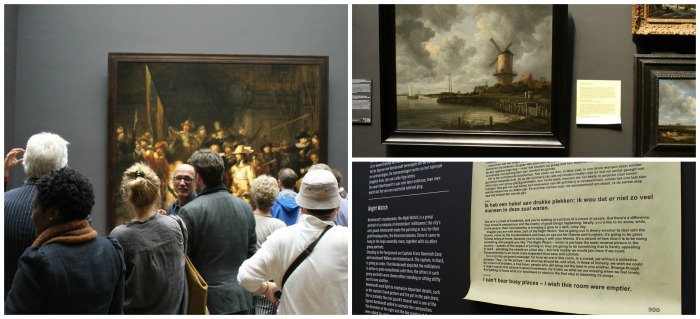 Going to the Rijksmuseum with this knowledge in mind, the experience is resulting in a new way of viewing art works. Walking through the museum and seeing the large-sized post-it notes popping up here and there (150 of them) makes the whole experience feel like a treasure hunt. And really, it brought a new dimension to the museum visit all in all. Sure, in some cases you will catch yourself thinking what in the world is going on in these guys' heads (that is, Mr. de Botton and Mr. Armstrong's heads), some of the information can feel occasionally, well, pompous. Are you familiar with earlier works of Alain de Botton, you might know what we refer to. But the merit of it all is that you end up having a different experience from the usual standard museum-visit, and that's surely only positive.

What happens if you go to the museum with no prior knowledge of the meaning of the post-it notes? It made to an interesting study examining how regular visitors approached it. Often you found people spending more time with and around the post-it notes than with the art works – there were certainly many smiles and signs of appreciation. Of course, there were many who looked more perplexed than interested; it's clearly an intellectual exercise and it won't be in everyone's taste. The exhibition is in Dutch and English; for non-speakers it will certainly only going to come across as some weird-looking over-sized sketch paper disturbing the view.
For us the experience was definitely an eye-opener, or maybe more correctly put a mind-opener. The great merit of Alain de Botton is to raise the issue of what art can mean to society in an easily understood way. We here at Art Weekenders think that art has qualities that society often under-estimates and we are of the opinion that all initiatives that make art more accessible is lauded. If this book and exhibition will be a trigger to it? It certainly has the potential, especially if you look at it as a means for opening your own eyes via new impressions and a bit of learning. About art – but also about ourselves.
Art As Therapy in Exhibitions Worldwide
Art as Therapy at Rijksmuseum is currently on until September.
Art as Therapy at National Gallery of Victoria in Melbourne.
Art as Therapy at Toronto's Art Gallery of Ontario.
You can learn more about the Art as Therapy project here – or why not buy the book
? The actual book is information-packed about 150 artworks and gives us insights into how art can help with many conventional difficulties we are facing in everyday life.