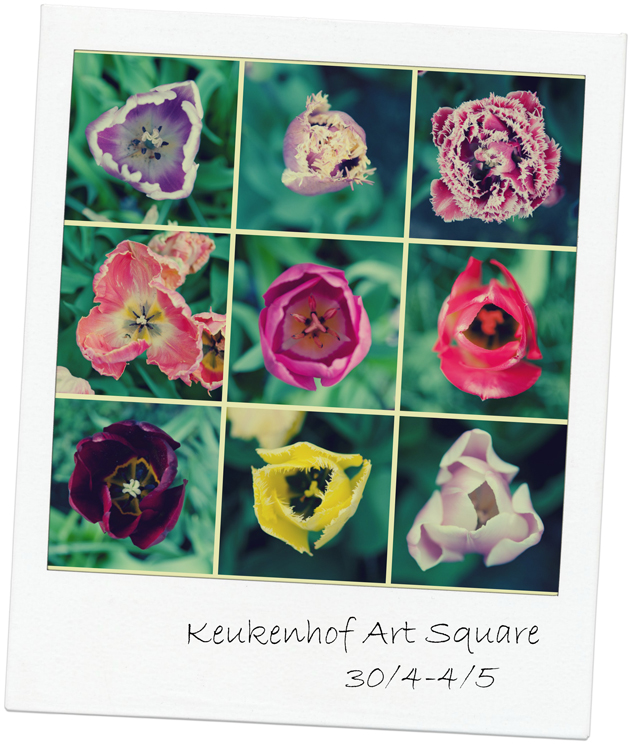 Visiting Keukenhof, the largest flower garden in the world, is already quite an event by itself as we experienced ourselves last week. The 7 million flower bulbs planted in the 32 hectare large garden all start to blossom the first half of spring and create a beautiful palet of colours.
In the two months the park is open, roughly 800.000 people visit the park and there's little needed to draw more visitors to the garden. Especially foreigners simply love this unique garden and come from all over the world to see the splendid park by themselves.
Keukenhof does, however, organize a number of special events throughout the short season it is open to attract a different audience as well. Of all the events organized the Keukenhof Art Square, on show from 30 April to 4 May, of course caught our attention as art lovers.
When you walk through Keukenhof you'll find art objects subtly placed around the park and in between the flowers all season long. Keukenhof Art Square is a five days event that gives art in the garden some extra attention, with the intention to show the close connection of flowers and art. Not only will there be an exhibition of existing paintings, there will also be 5o painters live at work letting themselves be inspired by the stunning settings around them. Perhaps they'll inspire you too?
When you visit the gardens on 3 May you'll have a chance to see another annual event: the Bulb Growing Region's Flower Parade, one of the most famous flower pageants around the world. The flower parade will travel from Noordwijk to Haarlem and pass Keukenhof around 3.3opm. Visitors to Keukenhof will be allowed to go out to see the parade and re-enter later.
This year Keukenhof is open until 18 May. After that the gardens close as the blossoming season is largely over. For those who like to plan ahead to see this event: in 2015 the park will be open from 2o March to 17 May inclusive.
For more details for your visit and more pictures of the park and the surrounding flower fields have a look at previous published articles on our site and our sistersite Shoutography:
Keukenhof, Tulip Fields And Dutch history